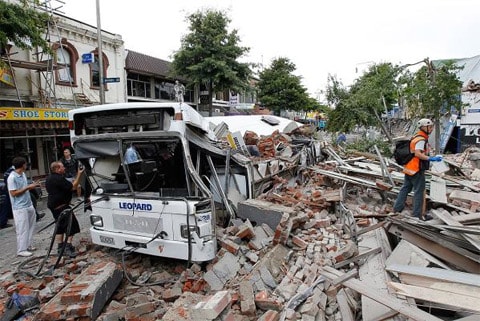 (source)
An earthquake measuring 6.3 on the Richter scale struck Christchurch, New Zealand on Tuesday in the middle of the day. At least 65 are dead, and hundreds missing:
It was the second major quake to hit Christchurch, a city of 350,000, in five months, though Tuesday's 6.3-magnitude temblor caused far more destruction than a stronger September quake that struck before dawn on a weekend. More than 100 people, including as many as a dozen visiting Japanese students, were thought to be trapped in the rubble as darkness — and drizzling rain — fell Tuesday night.
The earthquake caused 30 million tons of ice to break off Tasman, New Zealand's largest glacier.
Our thoughts are with the people of NZ today.
Some of the devastating footage, AFTER THE JUMP…
Footage from TV New Zealand (the pancaked building at around 1:40 reportedly had hundreds inside of it):