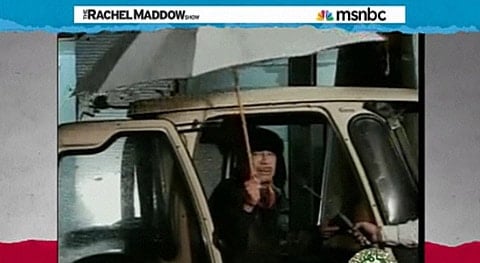 Rachel Maddow and Chris Matthews discuss the uprising in Libya, and the whereabouts of Col. Moammar Qaddafi, who offered a 22-second speech last night from a white truck gripping an umbrella in hand.
However, Qaddafi appears to be losing his grip on the country.
Said Qaddafi: "I am in Tripoli and not in Venezuela. Do not believe the channels belonging to stray dogs….I wanted to say something to the youths at the Green Square (in Tripoli) and stay up late with them but it started raining. Thank God, it's a good thing."
And there's already a Rihanna mash-up.
Watch Maddow and the mash-up, AFTER THE JUMP…
Visit msnbc.com for breaking news, world news, and news about the economy
Here's the Rihanna mash-up: