Yesterday in my round-up I noted that porn producer Michael Lucas had called for a boycott of New York's LGBT Center over an event it was holding by the group Israeli Apartheid Week.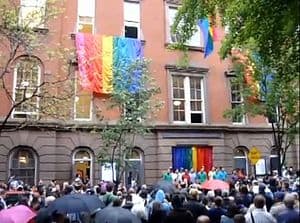 The LGBT Center has canceled the event, according to an email from Lucas:
We prevailed! Congratulations to everyone who stood with me in support of Israel. With your help it took only eight hours to accomplish our mission.
The LGBT Center has decided it will not host the party by Israeli Apartheid Week (IAW), scheduled for March 5th.
According to an email I just received personally from Glennda Testone, executive director of New York's LGBT Center, it has been determined that "this event is not appropriate to be held at our LGBT Community Center".
It is unfortunate that it took the effort of so many of us in order to obtain this decision. The gay center should know who they permit to use their facilities and should not have allowed this group access to the Center's facilities and not have the need for our intervention.
I am embarrassed that some people within the gay community would take part in an IAW event and that many would choose to turn a blind eye to it. I find it shameful, dangerous and alarming.
I want to thank everyone who sent emails and made calls of protest to the Center. In this difficult time, Israel needs all of us. It is a tiny island of democracy in the jungle of the Middle East and Israeli democracy greatly needs our support. It is something that is important to preserve.
I stand with Israel for its right to defend itself, never to be exterminated again. Even if the entire world will think differently, I will not change my mind. I will always fight anti-Semitism in the world however it may try to hide.