Rahm Emanuel has declared victory in the Chicago mayoral race: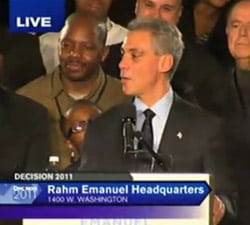 Emanuel's declaration came after runner-up Gery Chico called him tonight to concede defeat.
"We've elected a mayor tonight," Chico told supporters. "I want with all of my heart for Rahm Emanuel to be successful as mayor. We need that, ladies and gentlemen."
Emanuel needed to be above the 50 percent benchmark to avoid a runoff election and six more weeks of campaigning, and he got what he needed. With 92 percent of precincts counted, Emanuel had 54.9 percent to 24.4 percent for Chico.
City Clerk Miguel del Valle had 9.4 percent and former U.S. Sen. Carol Moseley Braun was at 8.7 percent.
Chicago Pride reports:
Emanuel, who was the front-runner in the Chicago mayoral race, was a favorite in Chicago's gay community.
"I think our city is an accomplished city, the LGBT community is a central part of our city," Emanuel said during a January press conference at the Center on Halsted where he announced the support of over 200 LGBT community leaders and advocates, including openly gay state Rep. Greg Harris (D-Chicago) and state Rep. Deborah Mell (D-Chicago).
Emanuel also picked up the endorsements of Equality Illinois PAC and the national LGBT advocacy group Human Rights Campaign.
Watch Emanuel's victory speech, AFTER THE JUMP…