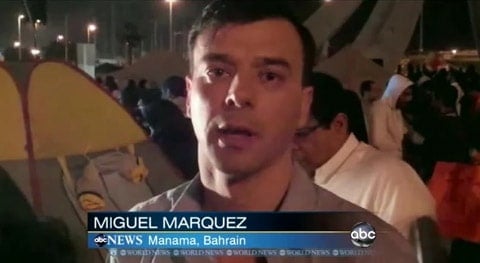 ABC News reporter Miguel Marquez was beaten in Bahrain covering the Egypt-inspired protests there.
"Hey! I'm a journalist here!" he yelled. " I'm going! I'm going! I'm going! I'm going! … I'm hit," he said. "I just got beat rather badly by a gang of thugs. I'm now in a marketplace near our hotel where people are cowering in buildings." He paused. "I mean, these people are not screwing around. They're going to clear that square, tonight, ahead of any protest, on Friday. The government clearly does not want this to get any bigger."
While the attack on Marquez seems clearly related to the protests, it does add to the larger debate of putting journalists in danger zones. In Marquez' case, another question comes up: how safe are openly gay journalists like Marquez in countries where they routinely imprison, deport, and often kill people for being gay?
Just last week, 127 gay men were reportedly arrested at a party in Bahrain. It's a routine occurrence, and clearly the climate there for gays is not a safe one.
Listen to the harrowing audio of the beating, AFTER THE JUMP…