> Disgruntled patron likely responsible for vandalism at three gay bars in Dallas, police say.
> Texas Latino Gay Pride draws hundreds in Dallas.
> Shia LaBeouf arrested in Austin, Texas: "Austin police confirmed to KVUE LaBeouf was arrested for public intoxication near the corner of Sixth and San Jacinto around 7:30 p.m. Friday after he allegedly attempted to cross against a "Don't Walk" sign. Public intoxication is a misdemeanor charge."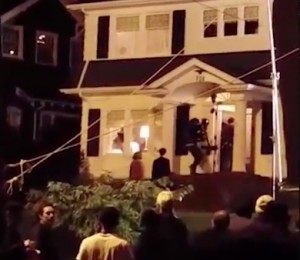 > Video leaks from Twin Peaks set, shows Agent Cooper and….Laura Palmer?
> Dear Black People: "Being black and gay is one of the most unique and undesired perspectives to have, but it's mine. I have a problem with a community that I belong to, love and support choosing not to fully embrace me because I was born just as gay as I was black. It's disheartening, but more than anything it's confusing. Rather than our struggles separating us, they should be a source of unification."
> California will automatically register millions of voters: "Starting in 2016, every eligible California citizen who goes to a DMV office to get a driver's license or renew one will be instantly registered to vote, unless he or she chooses to opt out."
> Michael Savage says the Democratic party is 'political AIDS': Savage claimed that it is the "radical, sick feminists" and "racists" who hate white people that are inflicting this liberal "sickness" on the nation. "This is a nation that is the deep throws of illness," Savage explained. "It would be too easy to call it a mental illness… I've redefined the illness America's suffering from as an autoimmune disease. America is suffering from what is the equivalent of political AIDS." Savage went on to clarify that the virus invading the country and "destroying it from within" is the "Democrat Socialist Party."
> World's hottest Math Teacher Pietro Boselli visits Sicily:
https://instagram.com/p/8qpia-PudO/?taken-by=pietroboselli