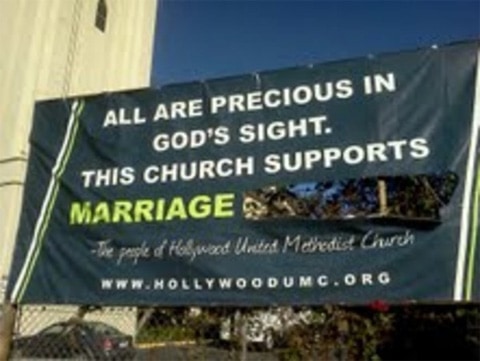 The Hollywood United Methodist Church in California supports marriage equality, and has a banner outside the church that reads, "All are precious in God's sight. This church supports marriage equality."
Sometime over the weekend, vandals tore out the "equality" portion so the banner would read "This church supports marriage."
Hollywood Patch reports: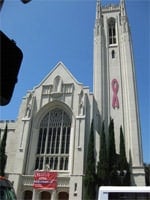 Rev. Kathy Cooper-Ledesma, a senior pastor at the church, said church leaders are asking the congregation to pray for those who defaced their banner.
"Our belief that hate is not a Christian value remains firm," she said. "And while they can take the 'equality' out of the banner, they can't take it out of our understanding of the Gospel."
The iconic church, located on the corner of Franklin and Highland avenues, is over 100 years old, and has been fighting for marriage equality for years, said Chad Darnell, a marketing coordinator for the church.
He said this was the second time that a banner was vandalized this month. The first banner was stabbed multiple times and this was the replacement banner.
Many of you will recognize the church. It has been adorned with an AIDS ribbon for years. The church has also reportedly hosted photo shoots for the NOH8 Campaign.
The church is filing a report with the LAPD. Anyone with information about the vandals can call the church at 323-874-2104.