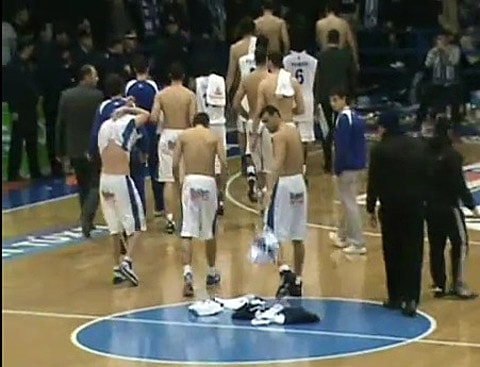 A basketball coach for the pro team Iraklis from Thessaloniki, Greece has reportedly tried to shame his team after a bad loss by ordering them to remove their shirts and leave them in the the center of the court, and then apologizing to fans for the "queer game" that the athletes played. The coach has been condemned by the players union.
Some of the players obeyed the orders and indeed took them off and throw them in the court centre. A couple of hours later the president of Iraklis BC made an announcement apologising to the fans for the "queer game" by the players.
The club's move has outraged the Players' Union who made an announcement against the club accusing them of "homophobic sentiments" and understanding the "outrage of of their Iraklis colleagues" for the humiliation suffered by the club's administration.
the club later retaliated again by quoting the team's captain Vladimir Petrovic that "the players don't deserve to wear this team's jerseys" and again hinting against the players saying that "a club is not a contract, a car and house with internet".
More at Ballin Europe…
Watch the incident, AFTER THE JUMP…