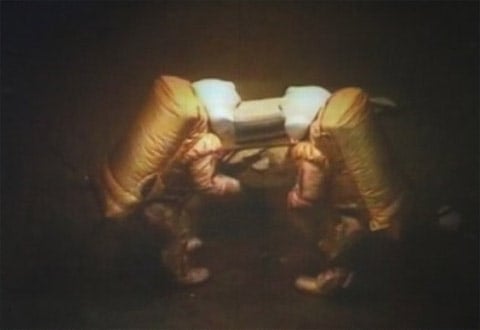 The 520-day Mars simulation mission undertaken by six astronauts reached its halfway point on Monday, as two of the researchers, who have been isolated for more than 240 days so far, took their first steps on the simulated red planet.
The idea is to mimic the timescale of a manned Mars flight — 250 days for the actual flight, 30 days in Martian orbit and on the surface, and then 240 days for the long return back to Earth. During the whole time, the crew members are shuttling through imaginary space and have limited contact with the rest of the world.
Russia's mission control center, which monitors real-life spaceflights, broadcast live footage of Russian Alexander Smoleyevsky and Italian-Colombian Diego Urbina trudging awkwardly under the weight of their 70-pound (32-kilogram) spacesuits through a dark, sand-filled and rock-strewn room meant to imitate Mars' Gusev Crater. The area has been nicknamed "Gusev Base."
Watch Russia Today's report and footage, AFTER THE JUMP…