UPDATE: The march has been canceled.
Activists are protesting the announcement of an East End Gay Pride march in London because of concerns that it could increase tension with the area's Muslim community, and because its organizer has been accused of having ties to a far-right anti-Islamist group: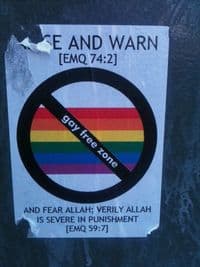 "The march, to be held on April 2nd, has been organised by six friends as a response to anti-gay stickers plastered around the East End. But opponents say it is an 'emotional reaction' which 'risks antagonising and scapegoating' Muslims. They have also accused organisers of having 'close links' to the English Defence League because some have Facebook friends who appear to be involved in the far-right group."
The stickers, which were plastered around East London in early February, declared the area a "gay-free zone".
OutRage activist Peter Tatchell released a statement saying the group opposed the march:
"OutRage! is not supporting East London Gay Pride, following the revelation of links between some of the organisers and the right-wing English Defence League (EDL). I have also withdrawn my personal support. We fear the march will be exploited and hijacked by the far right to create divisions and stir up intolerance against Muslim people…While defending the right of lesbian, gay, bisexual, transgender and inter-sex (LGBTI) people to protest against homophobia and the 'Gay Free Zone' stickers, it would be best if the march was postponed until a later date and organised by a broad-based grassroots and community coalition, untainted by associations with the EDL. Muslim organisations and speakers should be invited to participate in the rescheduled East London Pride."