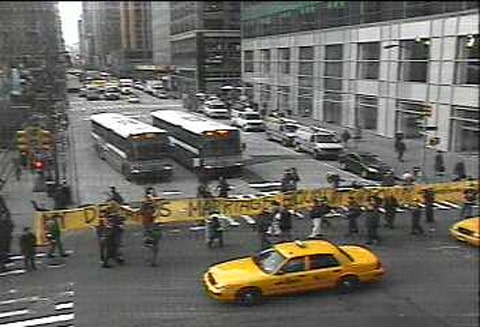 LGBT activist group Queer Rising this morning held an act of civil disobedience in protest of New York's lack of marriage equality at the corners of 6th Avenue and 42nd Street in midtown Manhattan.
Watch video, AFTER THE JUMP…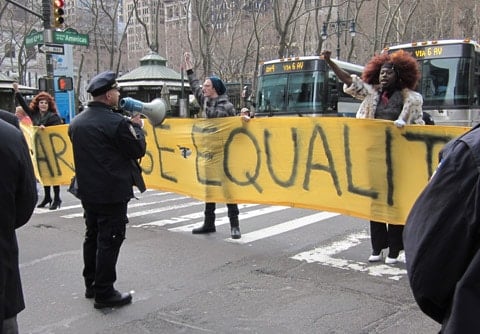 According to an alert from the group, they blocked traffic and unveiled a banner with the message "NY DEMANDS MARRIAGE EQUALITY NOW".
According to their release, the activists are:
"Kevin Beauchamp, 48 year-old, blind gay activist, partnered for 9 years;  Nora Camp, 29 year-old queer activist;  Natasha Dillon, 26 year-old lesbian activist and MBA student;  Frostie Flakes (aka Adam Siciliano), 24 year-old drag queen activist and nightlife performer;  Jake Goodman, 31 year-old queer activist and educator;  Honey LaBronx (aka Ben Strothmann), 31 year-old drag queen activist, actor, & photographer;  Eugene Lovendusky, 25 year-old gay activist, educator and NYCGMC member;  Kitten Withuwip (aka Caldwell) 24 year-old drag queen activist of color and actor/comedienne."
"It's a sad thing that I have to go to such extreme lengths for rights that others were born with," said Frostie Flakes, one of the three arrested drag queens.  
"We do not enjoy inconveniencing drivers on their hectic morning commute," said Jake Goodman, a member of Queer Rising and another arrestee, "but we less enjoy living without the 1,324 protections and rights granted by state-recognized marriage.  We only hope others stop the routine of their everyday lives to join us and demand marriage equality now."
Twitter reports from the scene indicated that all eight activists were arrested. A later tweet from Queer Rising confirmed that and reported that all activists were taken to the 7th precinct and released.
Watch video, AFTER THE JUMP…
(top image @ngblog twitter, other images queer rising)