House Majority Leader Eric Cantor (R-VA) warns that the DOMA wrath is coming: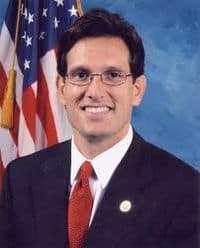 With Republicans upset at the Obama administration's abandonment of the Defense of Marriage Act, Representative Eric Cantor, the Virginia Republican and majority leader, said on Monday that House Republicans would decide by the end of the week how to take action to make certain the law is defended against legal challenges.
Mr. Cantor said he agreed with Speaker John A. Boehner that the House should step in and suggested that most members of the House find it disappointing that the White House has decided unilaterally not to defend a duly passed law.
Among those options is House appointment of a special counsel to defend the constitutionality of the law that the administration has decided is discriminatory.
The decision to take on the marriage law could be politically sensitive for the new Republican House majority. Some of their allies have urged Republicans to remain focused on the fiscal issues that helped them win their majority last November and stay out of the fights over social issues that can drive off independent voters.
In an interview with CBN earlier this week, Boehner suggested that the House would defend the constitutionality of DOMA.