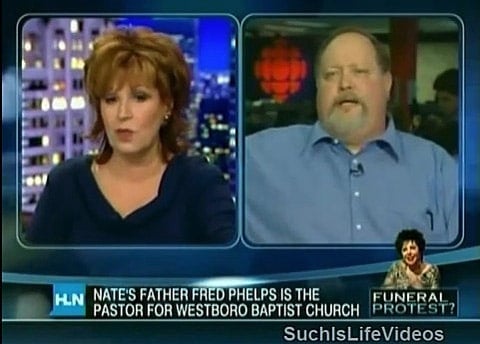 Joy Behar speaks with Nate Phelps, the estranged son of Fred Phelps, who claims his father physically abuses the family, about the WBC's attacks on gays, and their plans to picket Elizabeth Taylor's funeral.
Says Behar: "There's a sickness to it. There's an obsessive quality to it that rings of mental illness to me."
Behar says she hopes the elder Phelps dies soon.
Watch, AFTER THE JUMP…
Incidentally, the WBC was a no-show to Taylor's funeral, which was held yesterday at Forest Lawn Memorial-Park in Glendale:
Glendale Police Department officials said the department was asked to assist in security for the three dozen to four dozen family members and friends expected to attend the service because of the proximity of an elementary school. No details were given to the media about who attended the service.
Scotland Beavers, 47, left work early after reading posts on Facebook that suggested anti-gay protesters might be picketing. "We need to get there and try to block them," he said.
They had umbrellas ready if protesters showed up, but they never materialized.
Taylor was laid to rest near her good friend Michael Jackson. 
Watch the Behar clip, AFTER THE JUMP…