Fire broke out at a popular gay sauna in London over the weekend, Pink Paper reports: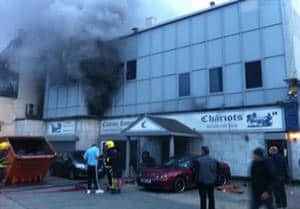 The fire started circa 5am on Sunday morning, leaving more than 100 customers to flee into the car park – some just wearing towels.
Although the cause of the blaze has not been officially ruled, some claim it could've been sparked by a faulty computer.
One customer, who wishes to remain anonymous, told PinkPaper.com: "We were dressing very quickly, with the smoke already entering the dressing area. Many had to dress outside and a few did not manage to find their clothes in time. It was bright daylight outside by then. "Everyone outside saw a quite tall column of smoke for quite some time so I imagine a great portion of the facilities has been destroyed." 
The fire was brought under control by 7:40 am, the Hackney Gazette reports.