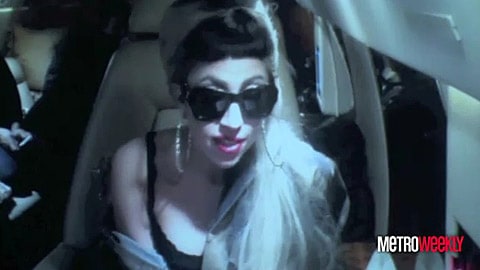 Lady Gaga wants to incubate all the time, according to the latest nutty report making the rounds:
"The eccentric singer is spending £1.2 million on renovating her New York condo as a shrine to her onstage persona and it will include a version of the 'egg' vessel she arrived at and climbed out of at the recent Grammy Awards. Her home will also showcase her flamboyant costumes, several props and keepsakes she has collected on her travels, which include bones and masks. An insider said: 'This house project is Gaga's new baby. The egg vessel is being made especially for her. She'll be able to sleep in it, in place of a double bed. She felt so a home in the egg on stage – she spent hours in it meditating and says when she's in it she feels at peace.'"
Also, she's going bald.
In related news we can confirm, Gaga accepted the Randy Shilts Visibility Award from the Servicemembers Legal Defense Network at its national dinner. She wasn't there, but recorded a video message.
Watch it, AFTER THE JUMP…