Some follow-up on the "bully fights back" video I posted earlier in the week, from Australia's Daily Telegraph: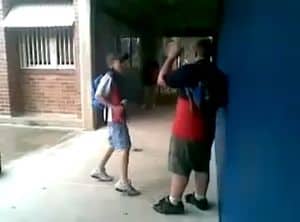 Both students were suspended for four days after the incident on Monday.
Footage of the fight at Chifley College, Dunheved Campus at North St Marys, was posted online and drew hundreds of comments on Facebook – mostly in support of Casey.
Casey's father said yesterday his son had been the victim of bullying for several years and feared for his safety if he spoke about the fight.
"There'll be reprisals from other kids in the school and he still has to go to school somewhere," he said. "He's not a violent kid, it's the first time he's lashed out and I don't want him to be victimised over that. He's always been taught never to hit. Apparently other people's parents don't teach their kids that."
TMZ adds: "We're also told the kid on the receiving end of the vicious body slam did not suffer any serious injuries … despite the fact he came off the ground with a severe limp. Sources tell us the kid who was being bullied is handling the media attention surprisingly well — and is "very happy" he's received so much support."
The previous post is HERE if you missed it.