Utah State Senator Chris Buttars, who time and time again has been the leading force against LGBT rights in Utah's legislature, is retiring, he announced on Thursday.
The West Jordan Republican was often a lightning rod for controversy during his tenure.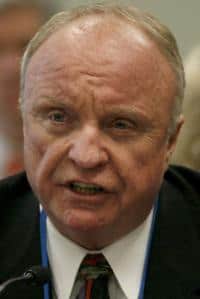 In the 2008 session, he was accused of making a racist statement on the floor when he used the word "black" to negatively describe the "baby" being divided in a bill.
He quickly apologized for saying, "This baby is black, I'll tell you. This is a dark and ugly thing" and won re-election to a third term in November 2008.
Senate leadership removed Buttars from as chairman of two judicial committees in February 2009 after he made anti-gay comments to a documentary filmmaker. He continued to chair the Senate Health and Human Services Committee and co-chair the Public Education Appropriations Subcommittee.
***
Buttars also sponsored legislation against gay straight alliances in public schools, introduced a resolution urging stores to have their employees say "Merry Christmas" rather than "Happy Holidays" to customers and promoted an intelligent design bill. 
Buttars was removed from two committees in February 2009 for comparing gays to radical Muslim extremists and asserting that they are America's 'greatest threat.' He later said he stood by his remarks.