Equality Matters: an overview of the six current DOMA lawsuits.

AUDIO: Michelangelo Signorile interviews top Russian LGBT activist Nikolai Alekseev, who is visiting the U.S. "His trip has been marred by controversy and his West Coast dates canceled over remarks on his blog that some charged were antisemitic. Alekseev says it was mistranslation from his blog, which was was in Russian."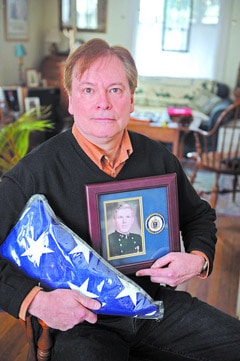 Marriage license makes all the difference for husband of deceased Vietnam vet: "I was respected. From that moment on, I was next of kin. They were amazing."

911: Paula Abdul held hostage in speeding car.

New report tracks finances of top LGBT organizations: " The participant organizations had revenues of more than $161.3 million in 2009 and represent nearly 70 percent of funding for all LGBT social justice advocacy organizations."

Poor victimized Sally Kern, who said gays were worse than terrorists, has written a book.

Barney Frank: "We are on the verge of major breakthroughs…I can foresee now an end to legal inequality based on sexual orientation and gender equality some time in my lifetime."

True: Charlie Sheen offends nation's Warlock population.

A gay couple married in Massachusetts in 2006 and seeking a divorce in Texas, have appealed their case to the Texas Supreme Court after an appeals court last summer overturned a judge's ruling granting them a divorce: "This Court should grant review because this case involves questions of great importance to Texas state law, which likely will recur with increasing frequency until this Court provides guidance."

White House party crashers Micheale and Tareq Salahi head to Celebrity Rehab…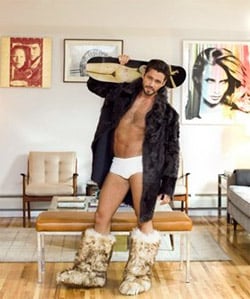 Inside Lorenzo Martone's NYC apartment.

LAT: GLAD taking incremental approach to fight against DOMA. "The federal government doesn't marry people. States decide on marriage. We are asking, 'Why can the federal government treat one group of married people differently from another?'"

Man drives 35 miles with wife on hood of car.

Mike Huckabee continues his jackassery.

Beaverton, Oregon teacher Seth Stambaugh, who was fired after coming out to a student last September, and later reinstated, has settled with the school district: "Recently the two parties have been involved in mediation and the parties agreed that the Beaverton School District would pay Stembaugh $75,000 as a settlement. Both parties agreed that litigation was not in the best interest of either party. In addition, the school district plans to provide additional training for topics such as sexual orientation, gender identity and gender expression for teachers."

Christina Ricci headed for TV in pilot about 60's flight attendants?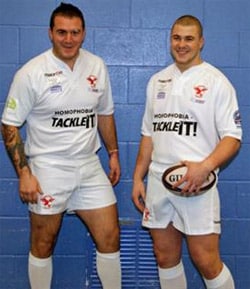 Rugby players unveil anti-homophobia jerseys: "Sheffield Eagles Rugby League Club have unveiled an anti-homophobia kit which players will wear in their championship match against Widnes Vikings on 13 March…The Eagles will become the first professional club in mainstream UK sport to display such a high level of support for the anti-homophobia campaign."

First openly gay members elected to Irish parliament.

Charlotte Church makes karaoke appearance at gay bar.

Larry Craig back on Capitol Hill, as a lobbyist: "Those walking around the halls of Congress on Monday afternoon were treated to a peculiar sighting as Former Senator Larry Craig (R-Idaho), long ago disgraced in a bizarre airport bathroom scandal and two-years removed from office, rode the subway that runs beneath the Capitol."