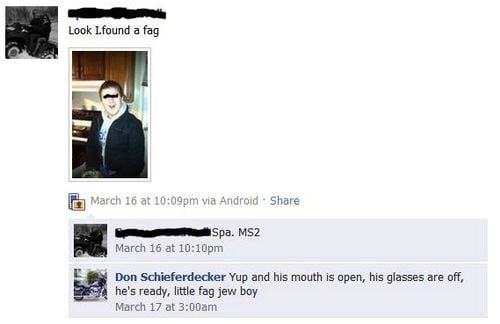 Schuyler County, Illinois sheriff Don Schieferdecker apparently only recently joined Facebook and is already in trouble over a comments he made on a friend's photo on the social networking site. The comment was posted on a photo of the friend in which his mouth is open. Schieferdecker wrote: "Yup and his mouth is open, his glasses are off, he's ready, little fag Jew boy." It has since been deleted.
The mayor of the city of Rushville, which is the county seat, Scott Thompson, issued a statement about the incident:
"I've been asked by many to make a statement regarding the remarks the sheriff made on a Facebook page earlier this week. Don is my friend but I will not speak to his heart or thoughts. I do however want to speak to my responsibility as mayor. I do not condone language which conveys discrimination or prejudice due to race, gender, sexual orientation, religion or national origin. Such language would reflect poorly upon the individual and the community."
Schieferdecker's originally explained the use of the slur as "just pissing with (a friend)."
The Civil Rights Agenda has called for Schieferdecker to resign:
"It is absolutely incomprehensible that an elected official would use such language to refer to a subordinate. I don't care if it was meant in jest or not. I don't care if he meant for everyone to see it or not. The fact is, the comment is now public and there should be consequences for statements such as this," stated Anthony Martinez, Executive Director of The Civil Rights Agenda. "Not only is this remark extremely hurtful to many Illinoisans, it sends a message to folks that it is okay to use such language. It sends the message that it is appropriate to mock Jewish people and people who are gay or part of the Lesbian, Gay, Bisexual and Transgender (LGBT) Community…The Civil Rights Agenda is asking residents of Illinois, especially residents of Schuyler County, to contact the Sheriff and respectfully ask him to step down."
On Friday, Schieferdecker officially apologized: "I have spent over 30 years of my life here giving public service, and I have never intentionally done anything to hurt anyone for any reason. … All I can do is say I am sorry. … I am extremely sorry [and] I beg people's forgiveness."
Schieferdecker has said that he has no plans to step down from his post.
The Facebook screen cap above is from Crime Crawlers, which originally came across the posted comment.