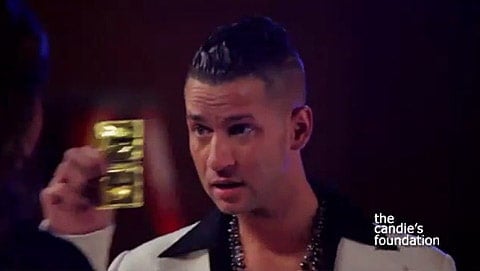 Jersey Shore's Angelina suggested that Mike 'The Situation' Sorrentino might be gay in an interview with 107.5 WZKL:
"I didn't have sex with him but to be honest with you, to get a girl riled up to the point where you want to have sex, he doesn't even know how to do that.  I honestly feel like he's in the closet right now, he doesn't want to come out…He's lame, he's not all that. Ladies he's not all that…He doesn't even know what he's doing. He's like a dead fish. He just sits there…You never know these days. More power to him if he's gay."
Or, maybe he just isn't that into you.
Previously…
Vanity Fair's George Wayne Asks 'The Situation' if Rumors About His Awful 'Cock Breath' are True [tr]