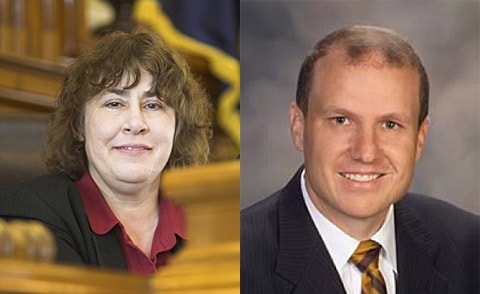 A conservative Republican and a Democrat who is also a judge made a successful motion Monday in a Kansas legislative committee to squash repeal of an outdated law criminalizing homosexuality.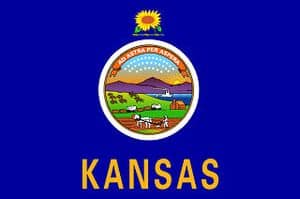 The move appeared solely based on the lawmakers' desire to disenfranchise and harass gay people.
Kansas Equality Coalition reports:
State Representatives Jan Pauls (D, Hutchinson), and Lance Kinzer (R, Olathe) said yesterday that being gay or lesbian should remain a crime in Kansas. Pauls made, with Kinzer's support, the successful motion in the Kansas Legislature's Corrections and Juvenile Justice Committee to keep the criminalization of gay and lesbian relationships on the books. Their action removed key language from HB2321, proposed by the Kansas Judicial Council, which would have resolved inconsistencies in Kansas criminal code, as well as remove unconstitutional laws.
"Jan Pauls was trusted to be a judge before becoming a state representative, and should know better than to support unconstitutional laws, breaking her oath to defend the Constitution," said Jon Powell, Chair of the Hutchinson Area chapter of the Kansas Equality Coalition. "We are fed up with her obvious support of harassment of gays and lesbians. We will not be bullied."
Although one remains on Kansas' books, all state laws criminalizing gay and lesbian relationships were struck down by the United States Supreme Court in 2003. Writing for the majority in the case of Lawrence v. Texas, Justice Anthony Kennedy said "if protected conduct is made criminal and the law which does so remains unexamined for its substantive validity, its stigma might remain even if it were not enforceable as drawn for equal protection reasons. When homosexual conduct is made criminal by the law of the State, that declaration in and of itself is an invitation to subject homosexual persons to discrimination both in the public and in the private spheres." 
Disregarding the US Supreme Court, the President of the Kansas County and District Attorneys Association, John Wheeler, said in 2008 that "even to this day, homosexuality is a crime in Kansas." His warning, made to a group of adult college students and caught on video, raised questions about the ability of gay and lesbian Kansans to live free from arrest, and to receive fair trials in our courts.
A protest is planned: "The Hutchinson Chapter of the Kansas Equality Coalition is organizing a peaceful demonstration to raise awareness of Representative Pauls' actions, to take place Thursday, March 17, in downtown Hutchinson. The demonstration will begin at 6pm, and will take place at the intersections of Main and Avenues A and B."
Kansas Governor Sam Brownback recently created an "Office of the Repealer" meant to focus on repealing such outdated laws. So far, the law criminalizing homosexuality hasn't made a target list.