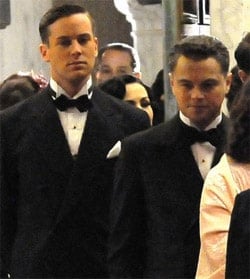 Leonardo DiCaprio and Armie Hammer shot a big kissing scene last week for the Clint Eastwood biopic J Edgar about the former FBI director, E! News' Marc Malkin and Brett Malec report:
"It was on Friday when they had their kissing scene, and it was very passionate," the source tells us.
For those who don't know, DiCaprio stars in the film as late FBI boss J. Edgar Hoover. Hammer plays his protégé and rumored lover Clyde Tolson.
"[They did] more [takes] than Clint normally does," adds our source. "They wanted to make it right…It's a more involved scene than just the kissing…It was so sexy."
Early in February, Hammer told DiCaprio to "pucker up."
In February, screenwriter Dustin Lance Black responded to reports that Clint Eastwood chose the film specifically because it didn't have a gay angle:
"I think [Eastwood is] referring to the fact that he's not going into the stereotypes of who Hoover was because they are clownish, they are comic book and they reek of homophobia and he's not going to do that. I agree with that. It won't be going into anything that is a gay stereotype, especially that was used in that day to bash gay men. It won't be going into that because it's not accurate and it's not true. It will deal with sexuality in a far more human, realistic way."