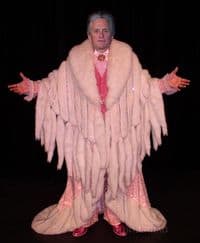 Jerry Weintraub, producer of the Liberace biopic starring Michael Douglas and Matt Damon, thinks he has a winner, according to Movieline:
While chatting about His Way, the new HBO documentary about Weintraub's half-century in the entertainment industry, Weintraub didn't hesitate when asked the one movie project he was most eager to finally realize. "Liberace," he said. "A lot of people think I'm nuts making a movie about Liberace. I don't! I've got a great script, it's a great story, and they're great characters. That's what I make movies about. It's going to win an Academy Award."
Oh, really? For whom? "For Michael Douglas."
Previously…
Matt Damon: When I Kiss Michael Douglas I am Making Out with Catherine Zeta-Jones [tr]
*Note: not an official pic.