The Montana House blocked efforts to send a stalled bill out of committee for debate by the full House yesterday. The bill, which I've posted quite a bit about, would strike a law from Montana's books criminalizing gay sex.  It stalled earlier this month following some hideous testimony smearing gays as HIV-positive tax burdens and pedophiles.
It's an obsolete law, made so by a Montana Supreme Court declaring it unconstitutional in 1997, and the U.S. Supreme Court ruling of Lawrence v. Texas.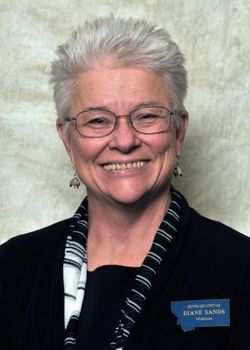 Yet bigoted lawmakers in Montana refuse to strike it.
The motion by Rep. Diane Sands (pictured, and who certainly wasn't smiling yesterday), D-Missoula, to blast Senate Bill 276 out of the House Judiciary Committee, received 51 votes in the 100-member House but failed to secure the 60 votes needed. The vote was 51-47.
The Senate passed SB276, by Sen. Tom Facey, D-Missoula, 35-14, but the House Judiciary Committee tabled the bill.
Before the court ruling in 1997, gays and lesbians in Montana risked being charged with felonies and if convicted, they could have faced a maximum penalty of a 10-year prison sentence and a $50,000 fine, said Sands, a lesbian.
Lawmakers opposed to the measure both denied the ruling of the Supreme Court and cited Bible scripture:
Judiciary Chairman Rep. Ken Peterson, R-Billings, who is an attorney, said the Supreme Court didn't find the law unconstitutional. Its ruling held that same-sex adults, in private, not-for-commercial purposes, are protected by the right to privacy, Peterson said. The court didn't say the law was unconstitutional, he said. "It should not be repealed because of situations it might apply in," he said.
and
Rep. Michael More, R-Gallatin Gateway, argued against Sands' motion, citing Scripture, natural law and "eternal law."…"I would say that the protections provided in the privacy clause of the Montana Constitution, which are extensive and which we've been over numerous times in the House Judiciary Committee, the protections are sufficient," he said.
Watch some of the testimony from local station KFBB, AFTER THE JUMP…