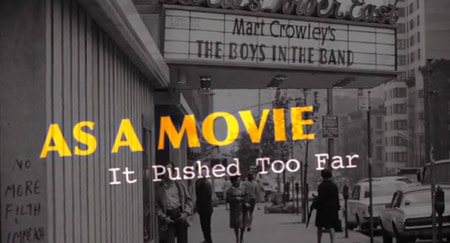 Have you ever seen "The Boys in the Band"?

NATHANIEL ROGERS
…would live in the movie theater but for the poor internet reception. He blogs daily at the Film Experience. Follow him on Twitter @nathanielr.
 
NOW PLAYING
MAKING THE BOYS is a documentary on Mart Crowley's landmark 1968 play turned 1970 movie "The Boys in the Band" about a very bitchy group of New York City homosexuals gathered for a birthday party during the Stonewall era. The doc is only in New York City at the moment but hopefully other gay-populated cities will follow. No matter what one thinks of the subject film, and opinions vary wildly from "self-loathing relic!" to "Respect your history, it changed the world!", it's worth a rental on legacy alone. One of the most horrifying sequences in the documentary involves a montage of teen and early twenty-something gays, one of them famous, who have absolutely no idea what "The Boys in the Band" is, let alone that it has anything to do with LGBT history. They showed a work print during the Tribeca Film Festival two whole years ago so I recall very little other than that it was an eye opener. Classic Hollywood fans take note: Natalie Wood features fairly prominently, or at least she did in the work print.
Meanwhile in popcorn world, Amanda Seyfried stars in the revisionist fairy tale RED RIDING HOOD.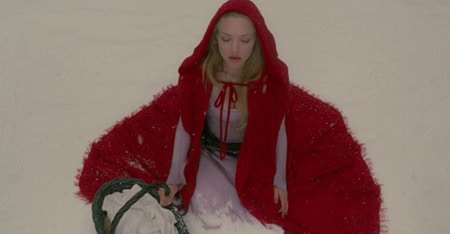 I know nothing about fashion but I'd be curious to know what Tom & Lorenzo or the Fug Girls make of that red cloak lavender bodice combo. ouch, my eyes…
MORE, AFTER THE JUMP…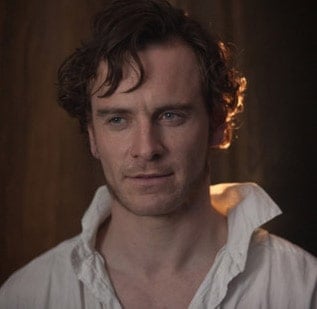 Also Opening: Aaron Eckhardt fights aliens in BATTLE: LOS ANGELES with the power of his piercing baby blues, super cleft chin and (presumably) massive fire arms; the nonstop avalanche of animated films continues with MARS NEEDS MOMS; Juliette Binoche is sensational in the intellectually playful and emotionally stunning CERTIFIED COPY; And finally, despite a tiny initial launch, watch for JANE EYRE when it hits a theater near you. The incredible Michael Fassbender broods as Mr. Rochester while Mia Wasikowska swoons in the title role. This, the millionth screen version, is helmed by rising directorial star Cary Fukunaga (Sin Nombre). It's winning amazing reviews.
BONUS SCENES
This is so so wrong. There lives a man who has 82 Julia Roberts tattoos.

James Franco's bookshelf analyzed.

With Carla Gugino in movie theaters as (fictional) porn star Elektra Luxx, why not a mini festival of Hollywood movies about porn. It's a thin line between the mainstream and the valley. As for me I shan't ever get enough of Boogie Nights, one of the best films of the Nineties full stop.

Channing Tatum and Jamie Bell continue to be adorable on the promotional circuit for The Eagle.

Did you hear that Stephan Elliott, the out director of The Adventures of Priscilla, Queen of the Desert has convinced Olivia Newton-John to swing off a chandelier for his next movie, A Few Best Men (2012)? It's true.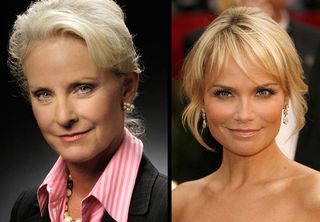 While I was caught in the Julianne Moore as Sarah Palin casting announcement drama yesterday, someone suggested to me Kristin Chenoweth as Cindy McCain. It's not the type of role they'd ever offer her — Hollywood would probably want Joan Allen to reprise her frosty politician wife from Nixon — and Kristin is a little young for it but now I can't get it out of my head. Since Palin is the only role cast, it's fun to fantasize about which stars might Julianne as the other politicans. Would you love to see Cheno try on something dramatic and biographical for an about face?

Keira Knightley is the latest actress to take on everyone's favorite bitchy fairy Tinkerbell. Well, her vocal chords at least. Clap your hands if you believe in fairies, whether from Neverland or Stonewall era NYC.