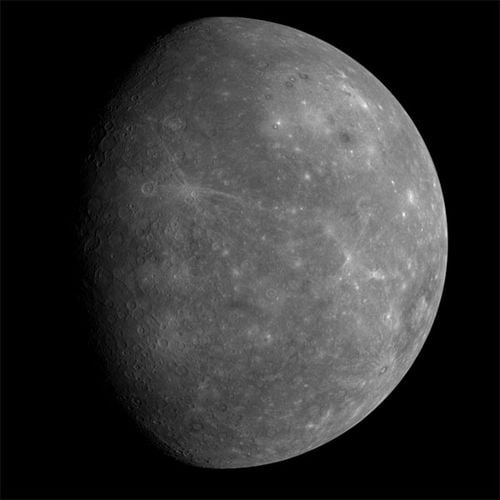 NASA's Messenger spacecraft settled into orbit around Mercury at approximately 9 pm EDT last night, NASA reports:
MESSENGER's main thruster fired for approximately 15 minutes at 8:45 p.m., slowing the spacecraft by 1,929 miles per hour and easing it into the planned orbit about Mercury. The rendezvous took place about 96 million miles from Earth. 
"Achieving Mercury orbit was by far the biggest milestone since MESSENGER was launched more than six and a half years ago," said Peter Bedini, MESSENGER project manager of the Applied Physics Laboratory (APL). "This accomplishment is the fruit of a tremendous amount of labor on the part of the navigation, guidance-and-control, and mission operations teams, who shepherded the spacecraft through its 4.9-billion-mile journey." 
For the next several weeks, APL engineers will be focused on ensuring the spacecraft's systems are all working well in Mercury's harsh thermal environment. Starting on March 23, the instruments will be turned on and checked out, and on April 4 the mission's primary science phase will begin. 
The photo above was shot by the Messenger spacecraft as it neared the planet closest to the sun in January 2008.