Apparently, 'DADT' discharges are still being actively pursued despite training implementation for repeal of the ban that is underway. Troubling.
DailyKos reports: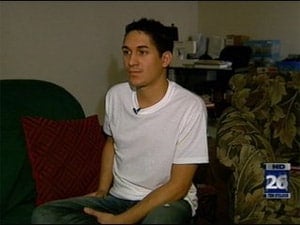 Petty Officer –  2nd Class Derek Morado joined the navy at the age of 17, and six years later, he is facing a discharge under "Don't Ask, Don't Tell". He was notified of the investigation into his sexual orientation in November, just before "repeal" passed. He was outed by somebody who read his MySpace page:
"In November I was told I was going to be administratively separated under the terms of "Don't Ask, Don't tell"… due to what they find is enough evidence to separate me based on a social networking website called My Space," Morado said.
The Fresno Bee speaks with Morado:
Morado said he's heard that no one has been discharged from the military for being gay since October. He hopes not to be the first since then, because he wants to make the Navy his career.
"It's all I really know," he said. "I've done it since high school. I just want to keep doing it."
GetEqual's Robin McGehee writes:
A short time ago, we were contacted by an active-duty servicemember who — despite the repeal of this horrible law — is still going through the process of being discharged. The process started for him on November 8, 2009, when someone anonymously outed him after seeing his MySpace page.
Within weeks, his discharge process began — but it limped along while the government waffled about what to do about repeal. A year went by before he got any kind of update, each day believing it was his last day to serve his country. After the repeal bill was signed into law, he believed his case to be over.
But Derek got bad news earlier this month. Despite DADT repeal, his case is still being pursued and his hearing is scheduled for tomorrow. With implementation still not in place, is this the Navy's attempt to slip in another discharge or bully him with a hearing…just because they still can?
According to GetEQUAL, Morado faces a private hearing today at 9 am tomorrow morning, and they are hoping to arm him with a list of supporters when he goes in. You can sign their petition HERE.