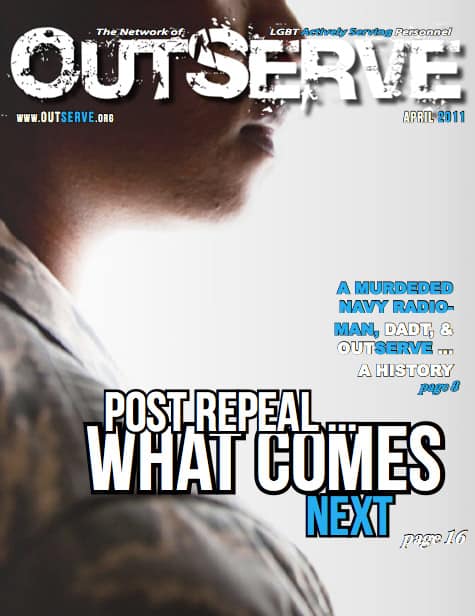 OutServe, the underground network of over 2,900 LGBT military personnel, today announced an eponymous publication which will serve as a resource for the thousands of active-duty LGBT service members in the U.S. military.
Said OutServe's co-director, an active-duty officer who goes by the pseudonym JD Smith: 
"Our first objective with the magazine is to let all the gay, lesbian, bi, and trans members currently serving know that they are not alone. And we also want to communicate to all troops that there are capable gay military members serving honorably, and that accepting that and moving on will make our military stronger. Our goal is to have our next version available in print, at some of the larger military bases. Visibility is key. We are not about highlighting our differences, but demonstrating how LGBT troops are proud soldiers, sailors, airmen, Coasties, and Marines just like everyone else."
According to the group, "The magazine contains features about DADT repeal implementation and OutServe chapters, as well as other information of interest to currently-serving LGBT military members."
The current issue also contains an article about the group's meeting with a Pentagon Repeal Implementation Team.
Write Jonathan Hopkins and Sue Fulton:
Actual date of certification is yet to be determined (DADT is technically repealed 60 days after certification). The Secretary and political leaders still have to decide whether certification will be anticipatory (certify on June 15th of this year if they are confident all training will be done by August 15th) or if certification will be the culminating event (certify on or after August 15th). That decision is being based not only on training completion, but also on the subjective feedback that unit commanders are providing in their reports on their unit's sense of preparedness. The RIT therefore could not give an expected repeal date because the decision simply has not been made yet. What is important right now are the commander's assessments of their unit's progress and preparedness for repeal.
You can read the first issue online HERE (PDF). The next issue will be in print.