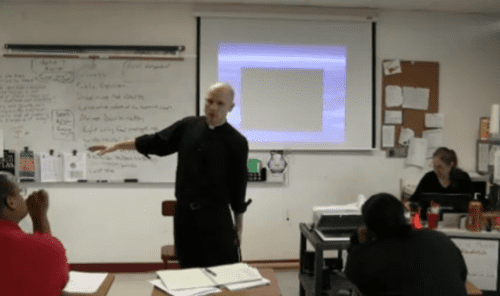 Want to be a fly on the wall during a Catholic high school class about homosexuality? Now you can thanks to YouTube and Fr. John Hollowell, Chaplain of Indianapolis' Cardinal Ritter High School, who has posted a recording of his 1 1/2 long class on the site. Good As You sat through the entire lesson (divided into three separate videos) and posted a few gems from the lecture:
Video 1 – (7:50) Hollowell compares homosexuality to alcoholism.

Video 2 – (12:24) A perceptive student noting…how Maggie Gallagher, as per usual, tried to talk all over Evan Wolfson — only to have the teacher immediately jump in and justify Gallagher's frustrations.

Video 2 – (14:50) Another student calls Maggie "ridiculous" and "angry," saying she found Evan "more intelligent." In fact, the student says that in her view, the person representing the anti-equality view in media is "always ridiculous.

Video 3 (21:52) If there is sex going on, it is an unhealthy atmosphere. You don't need to use the language of sin in order to say "look, the state should not be putting adopted children with couples who are acting on their homosexual attractions."
Hollowell is apparently very entrenched in social media sites. Aside from his YouTube channel, he also has a Facebook page, Twitter account and his own blog called On This Rock.
Watch the lesson in its entirety, if you can stomach it, AFTER THE JUMP.