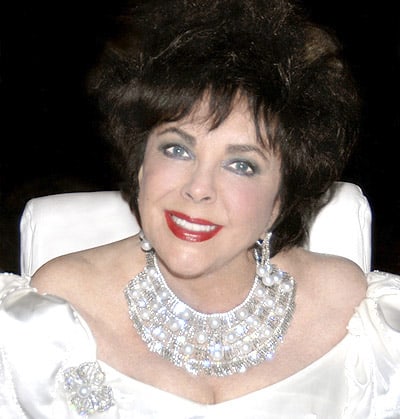 Dame Elizabeth Taylor, screen legend and tireless champion of people with HIV/AIDS, died from congestive heart failure at Cedars Sinai Hospital in Los Angeles early today. What a great loss.
"She was surrounded by her children- Michael Wilding, Christopher Wilding, Liza Todd, and Maria Burton," Taylor's publicist, Sally Morrison, said in a statement.
In addition to her children, Taylor is survived by 10 grand children and four great grandchildren.
Taylor had been hospitalized six weeks ago with congestive heart failure. Though she had recently suffered a number of complications, her condition had stabilized and it was hoped that she would be able to return home.
Watch Taylor speak about her AIDS activism, AFTER THE JUMP…
Said her son Michael Wilding to ABC News:
"My Mother was an extraordinary woman who lived life to the fullest, with great passion, humor, and love. Though her loss is devastating to those of us who held her so close and so dear, we will always be inspired by her enduring contribution to our world. Her remarkable body of work in film, her ongoing success as a businesswoman, and her brave and relentless advocacy in the fight against HIV/AIDS, all make us all incredibly proud of what she accomplished. We know, quite simply, that the world is a better place for Mom having lived in it. Her legacy will never fade, her spirit will always be with us, and her love will live forever in our hearts."
The Elizabeth Taylor AIDS Foundation released the following statement on its website: "We mourn the loss of legendary actress, businesswoman, and fearless activist Elizabeth Taylor. If you want to honor the memory of Elizabeth, you may do so either by making a contribution in her name to the foundation or by posting a personal message here.
Elizabeth Taylor AIDS Foundation [website]
Thank you, Elizabeth.
Here's a clipping via Good As You from 1985: