Tales of the City author Armistead Maupin, on a book tour in Australia for the latest book in the series, Mary Ann in Autumn, was told he couldn't use the restroom at Bojangles Saloon in Alice Springs, because it was "reserved for real men."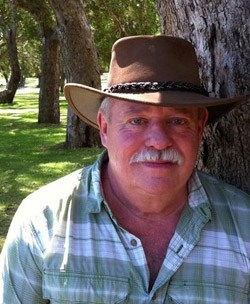 Armistead Maupin, writer of the popular Tales in the City series, was in Australia on a book tour when he visited Alice Springs with his husband Chris Turner last week.
They went into Bojangles Saloon to have lunch and approached a staff member behind the bar to ask if they were serving food. According to Mr Maupin, they were told to take a seat, after which Mr Maupin's husband Chris asked if he could use a rest room.
"The guy said, sorry, we don't have one in here but you can go across the street to the public facility."
Mr Maupin, who had used the toilet in Bojangles the day before, said he pointed in the direction of the toilet and said 'what's that over there?'
"[The barman] gave me a very pointed look and said that's reserved for 'real men'," said Mr Maupin.
Maupin left the bar and made an official complaint at the Visitor Information Centre. Shortly thereafter he was contacted by and received apologies from Tourism Central Australia.
Phil Walcott, Regional Director of Gay and Lesbian Tourism Australia says that Alice Springs is an inclusive community and that the incident was likely a 'one-off'.
"By and large, Alice Springs has moved beyond tolerance to acceptance of gay & lesbian people," he said. "We are proud of our very vibrant 'rainbow' community here with people in all spheres of government, business and even politics. The comment attributed to one individual who may well have issues with his own sexuality is seen as an isolated incident."
Maupin wrote about it on his Facebook page, saying: "We went here for lunch. When Chris asked where the toilet was, the bartender told us to go across the street because their toilet was reserved for 'real men.' So we did what real men do and crossed the street to the visitor's center where we filed a complaint. Impressively we received an email apology from the bartender that afternoon. Fair dinkum, mate. Next time don't f**k with the poofters."
He added later: "I was interviewed tonight by a newscaster from Alice Springs. Honestly, that town has responded like a champ to the homophobia Chris and I encountered in the local saloon."
(photo via Facebook)
In related news, check out this new story in the Wall Street Journal interviewing director Jason Moore and librettist Jeff Whitty about the musical adaptation of Tales of the City!
The musical version will contain all of those elements, along with polyester clothes and big hair. But the show will focus on what it felt like to be in that time and place, rather than what might be "archaeologically accurate," Mr. Moore said.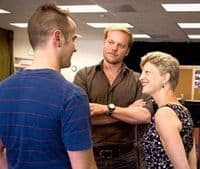 For example, Mr. Moore said that he and his lighting designer decided to ditch disco lights authentic to the period. "By today's standards, that lighting might seem really banal," he said. "But the experience of people going to [a disco] was amazing, trance-inducing and exciting."
While gently poking fun at how much has changed in nearly four decades, the play's script also highlights issues that remain controversial, such as the battle over gay rights. The story line features anti-gay rights crusader Anita Bryant, and a key song in which one character writes a letter to his parents to come out of the closet.