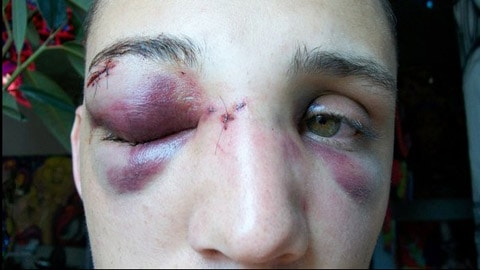 Earlier this week, Andy wrote about the brutal anti-gay attack of Damian Furtch outside of a McDonald's in NYC's West Village. Late last night, police in Brooklyn arrested a 21-year-old homeless man, Anthony Bray, who confessed to beating Furtch. Apparently Bray has told investigators that tha attack was not a gay bashing because he too is gay.
"Anthony Bray, collared in Bushwick, Brooklyn, confessed to attacking Damian Furtch outside a McDonald's on W. Third St. – but insisted it wasn't a bias attack because he is also gay. Bray told cops he pummeled Furtch, 26, 'because he was disrespectful to him,' sources said. Bray, who has prior arrests for marijuana possession, graffiti and robbery, was charged with misdemeanor assault. Cops said they haven't ruled out the possibility of hitting Bray with hate crime charges."
Watch the attack, which was caught on video, here.