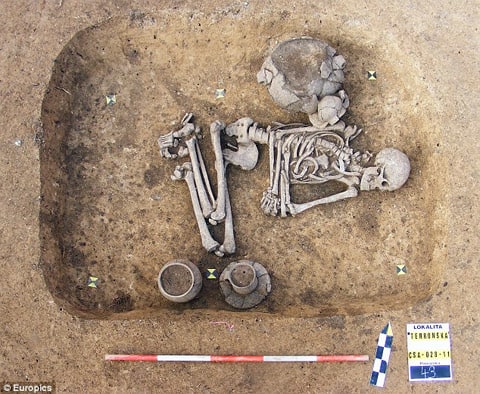 Placing a sexual orientation on a skeleton is certainly very presumptuous (and trendy media spin), but the circumstances regarding a burial unearthed near Prague are interesting from an anthropological perspective:
The male body – said to date back to between 2900-2500BC – was discovered buried in a way normally reserved only for women of the Corded Ware culture in the Copper Age.
***
"From history and ethnology, we know that people from this period took funeral rites very seriously so it is highly unlikely that this positioning was a mistake," said lead archaeologist Kamila Remisova Vesinova.
"Far more likely is that he was a man with a different sexual orientation, homosexual or transsexual," she added.
According to Corded Ware culture which began in the late Stone Age and culminated in the Bronze Age, men were traditionally buried lying on their right side with their heads pointing towards the west, and women on their left sides with their heads pointing towards the east. Both sexes would be put into a crouching position.
***
"We believe this is one of the earliest cases of what could be described as a 'transsexual' or 'third gender grave' in the Czech Republic," archaeologist Katerina Semradova told a press conference on Tuesday.
First Homosexual Caveman Found [telegraph]