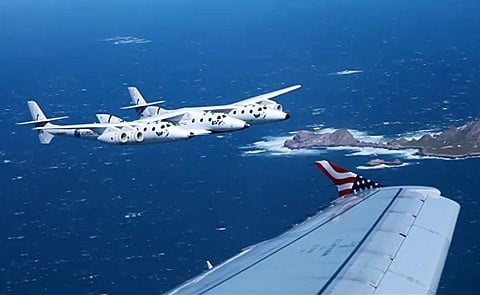 Journalists and guests of Sir Richard Branson got a space and aviation thrill yesterday when they were invited to ride in the new Virgin America A320 Airbus as it escorted WhiteKnightTwo, the carrier aircraft for the world's first commercial spaceship, on the inaugural landing at its brand new terminal at San Francisco International. The terminal opens April 14.
Guests aboard the A320 watched excitedly as WhiteKnight Two, carrying SpaceShipTwo, swooped out of the sky to line up with the aircraft and ride in tandem over the Golden Gate Bridge and into SFO.
Branson, Gavin Newsom, and Buzz Aldrin were among guests aboard the aircraft.
Watch a very cool clip from inside the plane, AFTER THE JUMP…