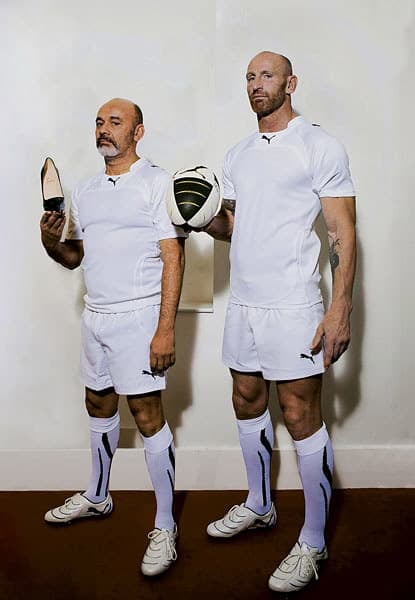 (image evening standard)
Shoe designer Christian Louboutin and gay rugby legend Gareth Thomas talk to the London Evening Standard about the shoes Louboutin designed in honor of Thomas, and how they became "sole mates":
After exchanging emails, the pair met in Wales and spent the day walking around Cardiff city centre and along the coastline.
Thomas said: "I come down on the train to London, and I'm looking forward to seeing him, thinking of all the things I can say."
Louboutin said: "We chat about sport. Though I am completely, shamelessly an individualist, and he is a great team player in every way."
Thomas added: "And shoes. These days I own more of Louby's shoes than I do rugby boots."
The shoes Louboutin designed are embroidered with replicas of Thomas' tattoos.
They make a hot couple, don't they?