You may recall that NBA Commissioner David Stern issued this firm statement on Wednesday following Kobe Bryant's now infamous use of an anti-gay slur during a LA Lakers game this week: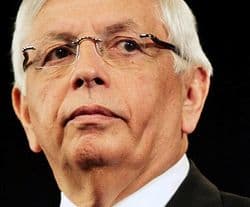 "Kobe Bryant's comment during last night's game was offensive and inexcusable. While I'm fully aware that basketball is an emotional game, such a distasteful term should never be tolerated. Accordingly, I have fined Kobe $100,000. Kobe and everyone associated with the NBA know that insensitive or derogatory comments are not acceptable and have no place in our game or society."
ESPN's True Hoop blog reports on some of the things related to the overall attitude related to gays and lesbians in the NBA during yesterday's the league's Board of Governor's meeting:
"I think that left unresponded to, statements like [Bryant's] could lead to a hostile work environment, and we're not going to have it."
What he thinks about the possibility of an openly gay play in the NBA:
"I think it's … I don't want to become a social crusader on this issue but I think sports, male sports, has traditionally not been an inviting environment for gay men to identify themselves. But eventually … we will get to a place where it is not an issue in sports…It's going to be hard, but it'll happen, I have no doubt about it."
Stern was a guest on the Mike & Mike show and had this to say when asked about the reaction he's heard thus far to the fine the league issued to Bryant: "From the groups that are most sensitive on this subject, various alliances supporting greater sensitivity to the rights of gays, lesbians transgenders, they very much appreciated the recognition that these kinds of slurs have to be taken with the same seriousness as other slurs."
Watch that interview, AFTER THE JUMP.