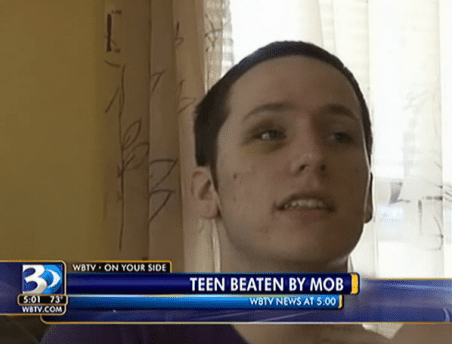 Openly gay teen Joshua Esskew was attacked by a mob at a gas station in Rock Hill, South Carolina last week. The 19-year-old said that the attack started with an anti-gay slur in which he was the target. He was then hit in the head with a beer bottle by an assailant and attacked by several other people who came at him from all angles.
WCNC reports on the attack:
"I responded with, 'What was that you said?' But nothing offensive toward them," Esskew said, describing the encounter. Surveillance video from the store shows a man hitting Esskew over the head with a beer bottle. "Three came up from the gas pumps. Two came up toward the Laundromat. There were three or four already standing there. They all just came," Esskew said. Investigators say a mob rushed to join in the attack just because they could. "Once they saw the fight occur, they did decide to take the opportunity to jump in and become violent," said Lt. Mike Baker with the York County Sheriff's Office. Security cameras caught close-ups of two of the eight men involved. "I believe it was a hate crime," said Esskew, who spent two days in a hospital because of the attack. "I don't have any hate in my heart toward any one of those guys. I believe justice does need to be served. I just really wish they would realize how good of a person they did this to."
Esskew was hospitalized and treated for broken blood vessels on his right-eye, cuts on his head and bleeding on his brain.
Watch a news report about the incident from WBTV as well as the shocking video surveillance footage, AFTER THE JUMP.