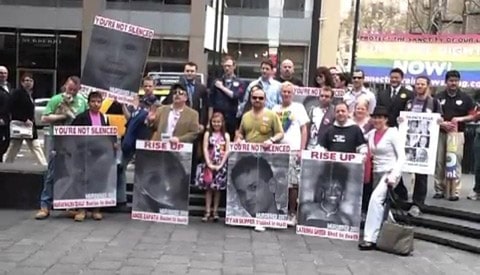 Activists from Connecting Rainbows and Queer Rising marched to St. Patrick's Cathedral yesterday and walked within the Fifth Avenue Easter Parade, they report to us: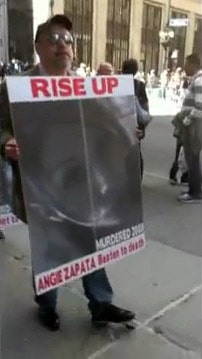 The groups formed two processions, walking through tens of thousands of people from 44th and 57th Streets on Fifth Avenue, carrying large signs showing faces of some of those killed or driven to suicide due to hate against them. Both processions met in front of St. Patrick's Cathedral and were led by a large banner that read, "Protect the Sanctity of Our Lives. Full Civil Rights NOW!"
The NYT included the groups as part of its write-up of the parade:
This small group of about 25 people stood while temperatures soared near 80 degrees, holding white placards bearing the pictures of eight members of the lesbian, gay, bisexual and transgender community who had recently committed suicide. They were demonstrating against a recent spate of hate crimes and against the Roman Catholic Church's position on same-sex marriage.
"We're not here as an aggressive protest," said Scott Wooledge, 44, of Brooklyn Heights. "We're here to reach out to people to make them understand that homophobia kills."
Dan Choi, a former lieutenant with the New York Army National Guard who was discharged under the now-repealed "don't ask, don't tell" law after announcing on national television that he is gay, stood somewhat anonymously with the group in a black suit and tie.
"I want to give voice to these people," he said, pointing to the signs, whose pictures included one of the Rutgers student Tyler Clementi, whose suicide has drawn national attention.
Watch speeches by activists Louis Flores, Brendan Fay, Alan Bounville, and others, AFTER THE JUMP…
Pre-parade prep: