The Crown Prince of Bahrain Salman bin Hamad Al-Khalifa has declined an invitation to Britain's Royal Wedding following controversy over his inclusion on the invite list: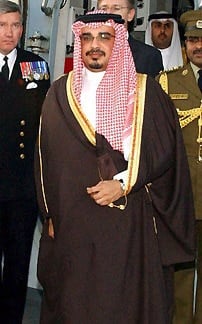 The prince said he had delayed sending his regrets, hoping for the situation in Bahrain to improve before Prince William and Kate Middleton marry on April 29, his office said in a statement.
He said the British media had "misrepresented" his stance and "clearly sought to involve my potential attendance as a political proxy for wider matters involving Bahrain".
Media reports had speculated that the prince would withdraw to avoid embarrassment after the bloody crackdown on mainly Shia Muslim protesters in Bahrain left at least 24 people dead.
Rights groups had criticized Al-Khalifa as well as several other foreign leaders who are on the invite list to Prince William and Kate Middleton's wedding, AFP reports:
Anti-monarchy campaign group Republic hit out at inclusion of royals from not only Bahrain but also Saudi Arabia, Oman, Brunei, Qatar, Swaziland, Lesotho, Bhutan and Kuwait.
"This guest list reads like a 'Who's Who' of tyrants and their cronies," Republic chief Graham Smith said.
"Whatever happened to William's supposedly strong social conscience? He must take personal responsibility for this and rescind the invitations immediately."
Leading gay rights campaigner Peter Tatchell said the invitations of "royal tyrants" from Bahrain, Swaziland and Saudi Arabia were a "massive misjudgement".
St James's Palace said it had sought advice from Britain's foreign ministry on guests from abroad.