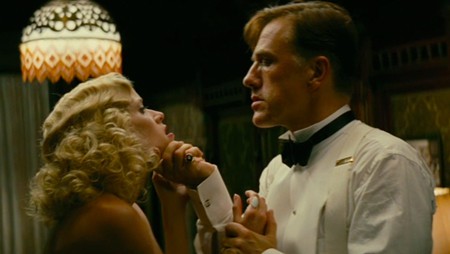 Reese takes it on the chin in "Water for Elephants"


NATHANIEL ROGERS
…would live in the movie theater but for the poor internet reception. He blogs daily at the Film Experience. Follow him on Twitter @nathanielr.
 
 OPENING
This Easter weekend's big opener is the adaptation of the bestseller WATER FOR ELEPHANTS, a period romantic drama starring Reese Witherspoon, Robert Pattison and that evil multi-lingual Nazi from Inglourious Basterds, Christoph Waltz. (Why are circus ringleaders always sinister in the movies?). That movie has elephants and giraffes and its only new wide release competition is Disney's AFRICAN CATS. Things are more crowded in limited release where Morgan Spurlock's new gimmick documentary THE GREATEST STORY EVER SOLD (on corporate sponsorships) competes with Oscar nominated Canadian drama INCENDIES among others. The combat photographer drama THE BANG BANG CLUB starring Taylor Kitsch and Ryan Phillipe also opens on the coasts. That's odd timing given the terrible news about the death of the acclaimed photographer Tim Hetherington, the man behind the war documentary Restrepo and "Sleeping Soldiers", both of which are well worth your time if you haven't seen them.
BONUS SCENES

Ryan Reynolds and Jason Bateman get intimately familiar with each other's bodies in The Change-Up.
Find out why in the NSFW (mild nudity) trailer AFTER THE JUMP…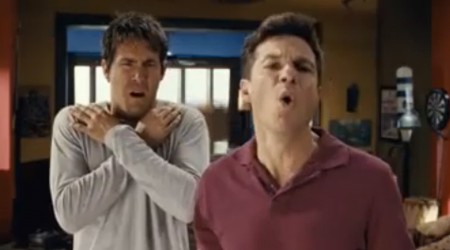 They're the stars of yet another body-switching comedy. Reynolds gets awfully excited to discover where Bateman is hiding his freckles.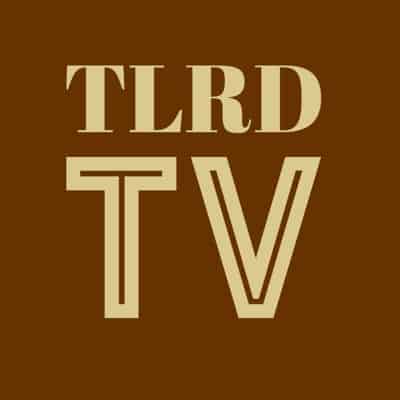 Could be rowdy fun or eye-gougingly bad but I guess these two weren't okay with Ryan Gosling owning the naked- bromantic-but-still-totally-hetero summer comedy this year (you've seen the Crazy Stupid Love trailer, yes?). Bet you anything that by the end of the movie the old marrieds have rejuvenated their sex-life and the hot bachelor settles down or at least stops being a sex-maniac. Oops, spoiler ???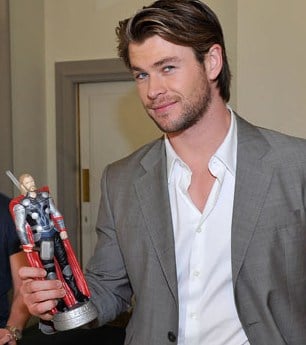 Would you drink from his cup? They've already got Chris Hemsworth hawking his own Norse God image on slurpee cups? Classy! But then THOR probably isn't aiming for serious respectable drama. At least we hope it's not.

Jodie Foster gets matter of fact about Hollywood sexism and "risk aversion"  in a recent interview about being a female director in Hollywood. Women still win only a teensy tiny percentage of directing jobs in Hollywood. Her controversial film with longtime friend Mel Gibson, "The Beaver" opens next month.

  Outside Hollywood the cinema is far less fearful of female directors. Two of the best films I saw at the recent Nashville International Film Festival (where I served on the Narrative Feature jury) were directed by women but they were from Argentina (the coming of age LGBT friendly drama The Last Summer of La Boyita) and the UK (the experimental documentary The Arbor which is about a famous screenwriter and a rough neighborhood in England).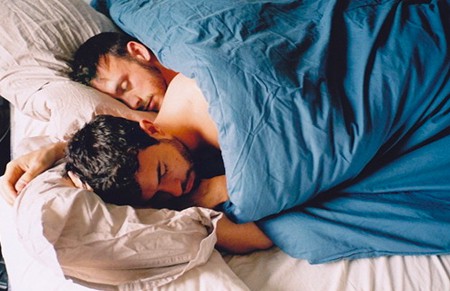 The Nashville International Film Festival closes tonight. The top prize went to the romantic drama WEEKEND (pictured above) about a hook up between two men of highly disparate personalities that ends up stretching out over an intimate weekend, shaking them both up. Weekend also recently nabbed the Audience Award at SXSW so the festival run is going superbly. Keep an eye on your local arthouse (the film has distribution but no release date as of yet) and support fine gay filmmaking when it swings by you.

Catherine Zeta-Jones, who won the Oscar singing & dancing in Chicago (2002), returns to the movie musical in Adam Shankman's adapation of Broadway hit Rock of Ages. She's the villain, a new character, who the director describes as a 'love child of Anita Bryant and Tipper Gore.' Yikes!
THE CLASSICS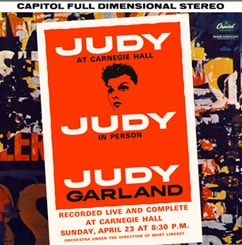 "JUDY! JUDY! JUDY!" This Saturday marks the 50th anniversary of Judy Garland's legendary comeback concert at Carnegie Hall. It's half a century old and it's still kicking around the culture. Rufus Wainwright recreated the concert a few years back with that Rufus Rufus Rufus tour and now, Michael Musto tells us that a new feature documentary is now in the works about the show. It will include concert footage plus talking head memories (the audience was star-studded too). It's too bad it's not completed and ready for viewing on this anniversary weekend.
Do you suppose Anne Hathaway is ever going to film that Judy Garland biopic she's attached to or will it remain in development hell?

  With the DVD release of the exhaustively ubiquitous The King's Speech and the underappreciated Rabbit Hole on DVD this week, all but three of the major Oscar nominated films are now available for home viewing (the lone holdouts: Best Actor nominated Biutiful, Best Actress nominated Blue Valentine and Best Screenplay nominated Another Year) so you can soon decide which winners will stand the test of time and which will be eclipsed by the films and performances they beat. Or maybe you've already forgotten all about the Oscars. It was two whole months ago – ancient news!