Evan Rachel Wood, who you may have seen recently in HBO's Mildred Pierce, tells Esquire that she's bisexual: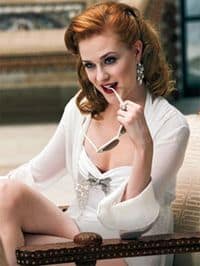 This is the third such hint in the conversation, after that androgyny comment and saying she'd "marry" her Mildred Pierce costar Kate Winslet if she could.
You date women?
"Yes," she says proudly, as if she was waiting to be asked.
Do you look for different things in men than in women?
"Yeah, I'm more kind of like the guy when it comes to girls. I'm the dominant one." It's with women, she says, that her inner North Carolina gentleman comes out: "I'm opening the doors, I'm buying dinner. Yeah, I'm romantic."
Wood was previously engaged to Marilyn Manson. She's the second female star of True Blood (with Anna Paquin) to come out of the closet about her bisexuality.