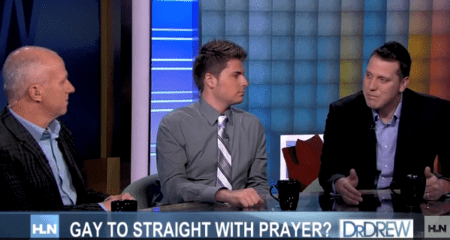 Does a talk show host even have to ask the question, "Can you pray the gay away?" to know that the answer is a flat out "no?" Alan Chambers, head of the so-called "ex-gay" organization Exodus International, who just had their app yanked from the Apple store last month, appeared on Dr. Drew's new HLN talk show Friday night to discuss that very topic.
A gay couple, who actually met during one of Chambers' so-called "conversion therapy" programs, confronted him on the show and presented themselves as proof that the very idea is absolutely ridiculous.
Watch, AFTER THE JUMP.