Managing Director of Australian Christian Lobby Jim Wallace causes outrage over tweet suggesting that military veterans didn't fight for all Australians: "Just hope that as we remember Servicemen and women today we remember the Australia they fought for — wasn't gay marriage and Islamic!"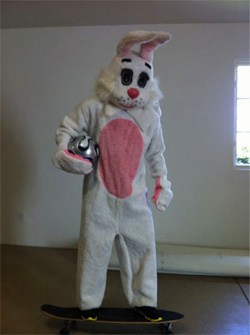 Wouldn't mind having this Easter Bunny show up at my door.

League of Women Voters join New Yorkers United for Marriage coalition: "The addition of the League, which encourages informed civic participation on issues such as education, governmental reform and the judicial system, puts a nonpartisan seal of approval on the campaign overseen by Democratic governor Andrew Cuomo."

Glee cast invades NYC.

Homophobic evangelical church comes to NYC's East Village: "Sexual morality has been a divisive issue for some Christian churches, and a challenge for an evangelical church trying to move into the East Village. Trinity Grace considers all sex outside marriage sinful, and marriage as a union between a man and a woman."

Anti-gay NY Senator Ruben Diaz Sr. plans anti-gay marriage march on May 15. Village Voice notes that march is scheduled on same day as NY AIDS Walk. Diaz accuses Voice of tolerating death threats aimed at him. Blabbeando has an excellent summary of the whole drama.

Jake Gyllenhaal's college yearbook photo.

Schools in California already adding gay-related lessons to the curriculum: "One of the two books the school has purchased for teachers to use is In Celebration of Harvey Milk, a workbook about the gay rights leader written by Angela F. Luna. A lesbian and fourth grade teacher at San Juan Unified School District in Sacramento County, Luna self-published the book in January."

Steve Jobs responds to iPhone geo-data collection: "We don't track anyone. The info circulating around is false."

Male model fix: Antonio Navas.

Taylor Kitsch shows off his Bang Bang Club.

Simon Cowell reveals X Factor judges: "Cowell tells me that in addition to himself and Antonio 'L.A.' Reid, the chairman of Island Def Jam Music Group who resigned to join The X Factor panel on Fox (and about whom Simon said 'was my No. 1 choice to sit alongside me on the show'), he has made up his mind to bring back Paula Abdul beside him and to add a Brit singer convicted of assault who's unknown to American audiences, Cheryl Cole."