At a House oversight hearing on "Don't Ask, Don't Tell" today, Pentagon officials said that repeal implementation training was going smoothly and that certification could come near the end of or soon after summer, the Stars and Stripes reports: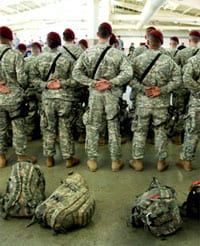 The Defense Department expects by midsummer to have completed enough "don't ask, don't tell" repeal training that it can ask the president, defense secretary and chairman of the Joint Chiefs of Staff to certify the results and begin the congressionally mandated 60-day countdown to full repeal.
Just 200,000 troops, about 9 percent of the force, have gone through the training so far, according to Vice Adm. William Gortney, director of the Joint Staff. But the first progress reports coming in from service commanders over the past six weeks show "no issues or problems," said Under Secretary of Defense for Personnel and Readiness Clifford Stanley.
"All is going well," he told a House panel.
No doubt this news will cause the wingnuts to step up their campaign to halt the process.
Certification can't come soon enough as  service members continue to be threatened with discharge under the policy. Yesterday, Navy Petty Officer 2nd Class Derek Morado attended a hearing but was thankfully spared discharge.
Said Alexander Nicholson, Executive Director of Servicemembers United and a former Army Human Intelligence Collector who was discharged under 'Don't Ask, Don't Tell' of today's hearing:
"Despite the transparent intentions behind the scheduling of today's oversight hearing on the progress toward 'Don't Ask, Don't Tell' repeal, the hearing went very well and revealed smooth sailing for ongoing training and certification preparation. Under Secretary Stanley and Vice Admiral Gortney thoroughly answered all questions regarding the progress of repeal training, and opponents of repeal noticeably struggled to try to get in digs about this inevitable change in policy. Overall, the Department of Defense continues to do an admirable job in deliberately moving forward toward certification and finality on this issue."