Prop 8 proponents have filed a motion to vacate the ruling by Judge Vaughn Walker overturning California's ban on same-sex marriage, saying that the judge's recent statements that he is gay mean he should have recused himself from the case and give them grounds to appeal, the AP reports: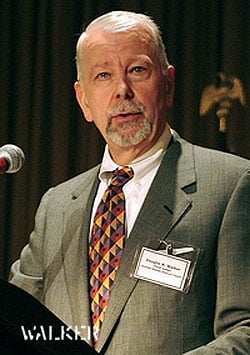 Lawyers for the coalition of religious and conservative groups that put Proposition 8 on the November 2008 ballot… did not raise his sexual orientation as a legal issue.
Pugno said that has now changed because Walker publicly addressed the rumors this month when he told a group of courthouse reporters about his 10-year relationship.
***
In their anticipated filing, the Proposition 8 lawyers plan to argue that Walker should have removed himself not because he is gay, but because his relationship status made him too similar to the same-sex couples who sued in his for the right to marry.
Walker came out publicly for the first time in early April.
At the time, Walker said he would never think of recusing himself from a case over his sexuality:
Walker, who retired from the bench at the end of February, said it would not be appropriate for any judge's sexual orientation, ethnicity, national origin or gender to stop them from presiding over a case.
"That's a very slippery slope," Walker said.
A docket was filed late this afternoon:
"Docket Text: MOTION to Vacate Judgment filed by Martin F. Gutierrez, Dennis Hollingsworth, Mark A. Jansson, Gail J. Knight, ProtectMarriage.com – Yes on 8, A Project of California Renewal. Motion Hearing set for 7/11/2011 09:00 AM in Courtroom 5, 17th Floor, San Francisco before Hon. James Ware. (Attachments: # (1) Proposed Order Proposed Order)(Cooper, Charles) (Filed on 4/25/2011)"
American Foundation for Equal Rights (AFER) Board President Chad Griffin released a statement in response:
"This motion is yet another in a string of desperate and absurd motions by Prop 8 Proponents who refuse to accept the fact that the freedom to marry is a constitutional right. They're attempting to keep secret the video of the public trial and they're attacking the judge because they disagree with his decision. Clearly, the Proponents are grasping at straws because they have no legal case."