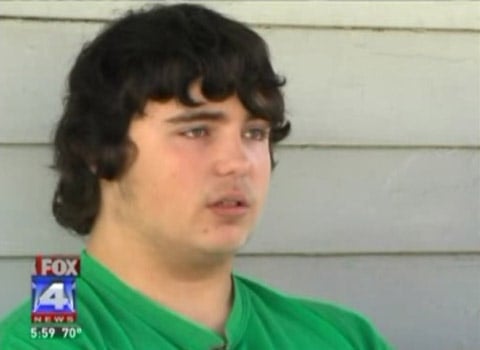 A teacher and assistant principal at Liberty High School in Liberty, Missouri sent bisexual student Jesse Irey home for wearing a t-shirt that said "Queer + Str8 = Equal" because they said it was hateful even though other kids were wearing shirts directly expressing intolerance, FOX4KC reports: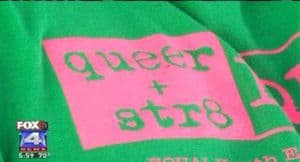 "What people are trying to do is take the word back so it's not an offensive slur," said Irey, who says that he is particularly upset because other students at the school were allowed to wear anti-gay shirts at school after the school's Gay-Straight Alliance wore shirts that read 'Gay-Fine by Me.'
"Kids wore shirts like this that said 'Straight – the only thing fine by me,'" said Irey.
"(School officials) didn't ask those students to turn their shirts inside out," said Kelly Smith, Irey's mother. She says that since her son came out as bisexual, he has been harassed at school by other students and teachers.  
"It's ignorance and prejudice and there's no place for that at school," said Smith.
In a statement, the Liberty School District says the word queer is "aligned with hate-drive remarks resulting in hostile physical reactions that are detrimental to a safe learning environment." The statement goes on to say that the district "embraces and promotes acceptance and tolerance."
The ACLU is demanding that the school stop its censorship. The shirt came from a conference called EQUAL, Empowering Queer Activists and Leaders.
Watch, AFTER THE JUMP…