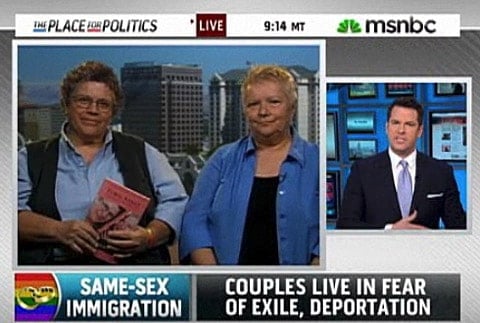 Thomas Roberts spoke with Judy Rickard and Karin Bogliolo, a binational couple, about the need for immigration equality and the need for the Uniting American Families Act.
Rickard and Bogliolo also announced that they eloped to their families on the segment, and said they are not interested in any gifts!
Watch, AFTER THE JUMP…
In related news, President Obama is attending a fundraiser tomorrow in San Francisco where he will be met by protesters demanding immigration equality. From Facebook:
"Please join Get Equal, Marriage Equality USA and Out4Immigration to remind President Obama about his campaign promises to our community about the Repeal of DOMA, his support for the passage of Uniting American Families Act, Marriage Equality (and full federal rights for married LGBT Couples) and Comprehensive Immigration Reform!"
Visit msnbc.com for breaking news, world news, and news about the economy