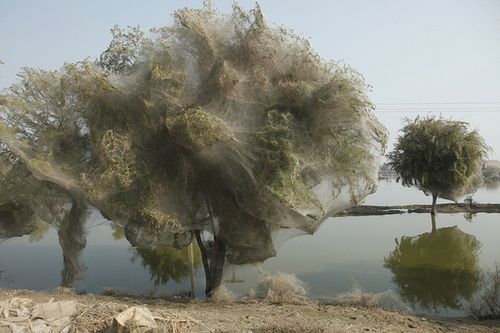 Check out these strange photos from Pakistan, where spiders have sought higher ground due to flooding.
With more than a fifth of the country submerged, millions of spiders climbed into trees to escape the rising floodwater. As the water has taken so long to recede, the trees quickly became covered in a coocoon of spiderwebs. The result is an eerie, alien panorama, with any vegetation covered in a thick mass of webbing. You can see images from the region in the gallery below.
However, the unusual phenomenon may be a blessing in disguise. The UK's department for international development reports that areas where the spiders have scaled the trees have seen a far fewer malaria-spreading mosquitos than might be expected, given the prevalance of stagnant, standing water.
One more shot, AFTER THE JUMP…