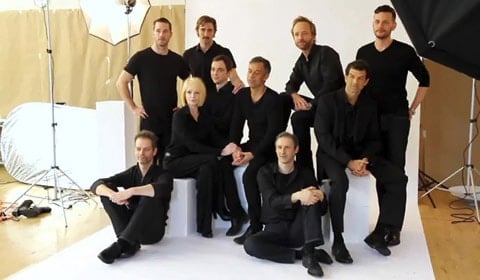 Had a chance the other night to see a preview of the revival of Larry Kramer's groundbreaking 1985 play The Normal Heart about the early days of the AIDS epidemic and was moved beyond anything I was prepared for. It's hard to single out a 'best' performance from this ensemble, though if I had to use one-sheet-style adjectives for the performances I'd call Joe Mantello "committed", Jim Parsons "hilarious", Lee Pace "stunning", and John Benjamin Hickey "gut-wrenching".
The show opens tonight and I thought I'd post an interview with some of the stars, as well, as the leaflet which Kramer has been personally handing out with a few assistants outside the theater after each performance. Click to enlarge.
For those of you who did not have the displeasure of coming out, or being out in the horrific time in our nation's history when the AIDS crisis began, you'll likely learn a lot.
In disclosure, the show advertises here on the site. I'd be giving it a rave in any case.
Check out the video, AFTER THE JUMP…