Outserve, the first LGBT group for active duty service members is holding a first-of-its-kind conference in Las Vegas in mid-October, according to a press release from the group: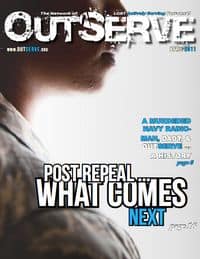 The OutServe Armed Forces Leadership Summit will provide an international forum on enhancing military readiness through encouraging an environment of respect with regard to sexual orientation and gender identity. It will provide the LGBT military community a means of building professional networks, sharing best practices and formulating strategies that help build a stronger military community. The Summit will feature respected and well-known authorities speaking on a range of topics, intriguing and groundbreaking panels, and interactive workshops that address diversity as a strength.
Among the many topics to be featured: how allied military forces have welcomed LGBT personnel; latest research on diversity inside the military and out; and resources for LGBT military partners and families.
Said OutServe's active-duty co-director J.D. Smith, who is identified by a pseudonym while "Don't Ask, Don't Tell" is still in effect: "We believe diversity is a force multiplier, and this conference will bring together veterans, active-duty military, and other experts to help us leverage LGBT inclusion for the benefit of military readiness. Building an environment of mutual respect is ingrained in our military values, and as active-duty soldiers, sailors, airmen, and Marines who happen to be gay, that's what we are working toward."
More information on the summit can be found at Outserve's website.